Max Mizejewski grew up in Los Angeles then received his bachelor's degree in Environmental Science from the University of California at Berkeley in 1993. After graduation he scored in the 99.8th percentile on the Law School Admission Test and went on to graduate from Northwestern School of Law at Lewis & Clark College with a focus in Environmental Law.
Mr. Mizejewski worked for Oregon Department of Transportation for 10 years, eventually in the role of Region 1 Environmental Manager in Portland where he gained valuable experience negotiating, problem solving and working through confrontational issues with emotionally charged individuals.
In 2009 Mr. Mizejewski started a private law practice to pursue courtroom advocacy, with the simple goal of providing the accused high-level professional legal representation. Since 2009, MJM Law Office, PC has grown into a premier Eugene, Oregon law firm representing clients statewide who are accused of DUI, traffic crimes, drug crimes, assaults and other misdemeanors and felonies. Mr. Mizejewski chose this practice area out of personal interest and as an important window into the government's police power in our society.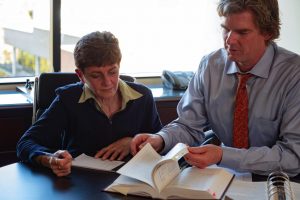 While the vast majority of criminal cases resolve with a plea deal, Mr. Mizejewski has shown success in many Municipal and Circuit Court jury trials, particularly cases involving forensic science and toxicology such as DUI controlled substances (including marijuana, prescription drugs and recreational drugs). In January of 2019, Mr. Mizejewski served as co-counsel on a manslaughter / DUI jury trial and secured a 12-0 Not Guilty verdict after several months of pre-trial hearings and two weeks of presentation to a jury. Through clear presentation of scientific evidence and deconstruction of the police investigation, Mr. Mizejewski and his team won freedom for the client. Presentation to the jury included use of expert and clinical medical witnesses to educate the jury on how our theory of defense made the most sense when reviewing accident reconstruction data, airbag control module data, bio-mechanics, DNA evidence, neurology and other medical conditions.
The majority of Mr. Mizejewski's cases are simpler than his January 2019 trial. MJM Law Office, PC treats each client with respectful attention no matter how big or small the case. Mr. Mizejewski's ability to guide clients through the legal process and the counsel he provides to  define proper courses of action helps meet long term goals of the client. Mr. Mizejewski takes his role as counselor just as seriously as he assumes his role as attorney.
Mr. Mizejewski served as editor of the DUII Notebook: A Comprehensive Guide to Your DUII Case 2020 edition. This 738 page document published by the Oregon Criminal Defense Lawyers Association is the legal authority used by attorneys statewide for defending DUI cases in Oregon. In addition to editing the notebook, Mr. Mizejewski co-authored 2 chapters: Chapter 10 Drug Recognition Experts & Cannabis which is a deep dive into the 2018 DRE manual used by law enforcement to prosecute controlled substance DUI cases and Chapter 2 You and Your Client which is about managing client relationships and best advocating for clients with drug and alcohol dependency issues. If you have been accused of DUI contact the attorney that wrote the book on it.
---
Professional Memberships
Chair of Lane County Bar Association Criminal Defense Committee
Committee member of Oregon Criminal Defense Lawyers Association
Member of the Oregon State Bar
Member of the Federal Bar
Education
J.D., Northwestern School of Law of Lewis and Clark College, Portland, OR (1997)
International Law Program, Udayana University, Bali, Indonesia (1995)
B.A., University of California at Berkeley, Berkeley, CA (1993)
Clerkships
United States Department of the Interior, Solicitors Office
Energy Trust of Oregon, General Counsel
Public Sector Experience
Oregon Department of Transportation, Environmental Section
City of Portland, City Nature West
Publications
Editor of Oregon Criminal Defense Lawyer's Association 2020 Edition of the DUII Notebook: A Comprehensive Guide to Your DUII Case and co-author of Chapter 10 Drug Recognition Experts & Cannabis and Chapter 2 You and Your Client. A link to this publication can be found here.
FERC's Abdication of Jurisdiction Over Hydroelectric Dams on Non-Navigable Rivers: A Potential Setback for Comprehensive Stream Management, in Vol. 27, No. 3, Environmental Law
Reduction of Biochemical Oxygen Demand in and Advanced Integrated Wastewater Pond System, UC Berkeley Environmental Sciences Journal